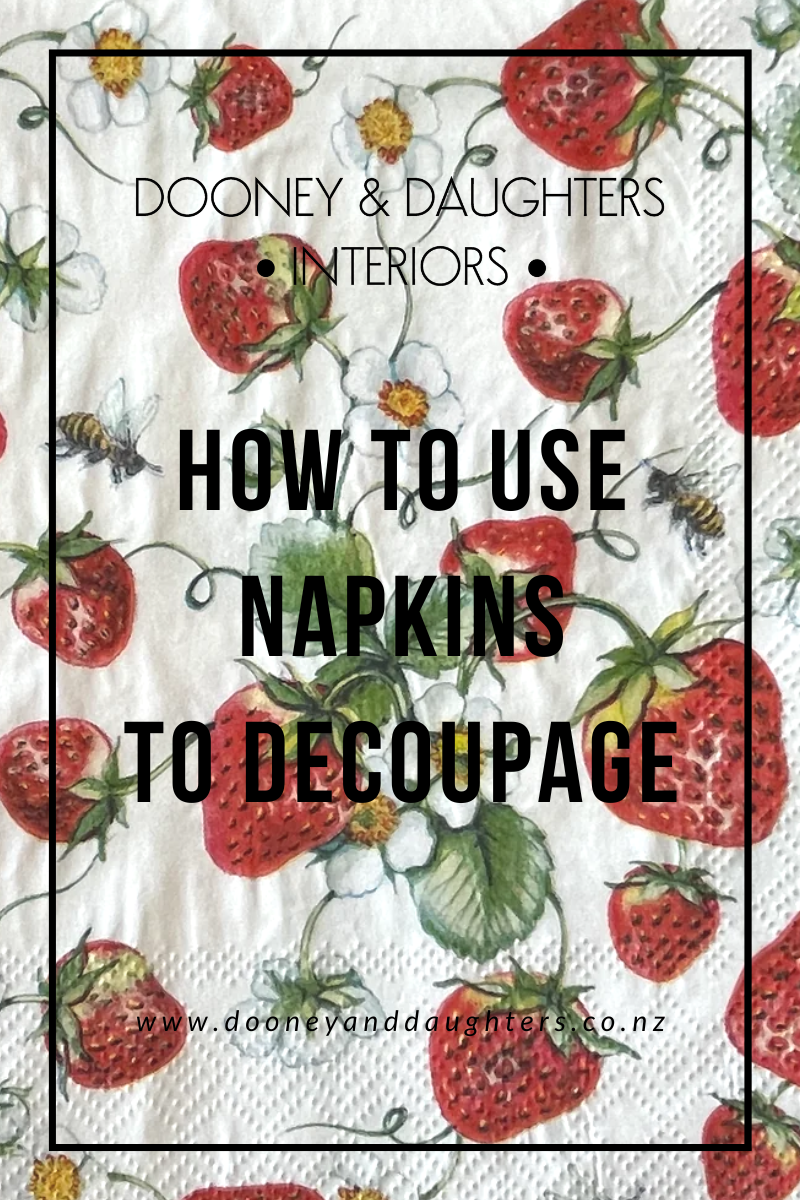 How To Use Napkins To Decoupage
In this blog post we provide step-by-step instructions on how to decoupage napkins to create your own design.
Using napkins for decoupage gives a lot of creativity and freedom. We love using them on furniture and using premium chalk paint to blend the image, but our favourite way to use them is on smaller décor or furniture pieces creating an all over stand-out design.
Tools that you need:
Read on for step-by-step instructions:
1 - Paint your base in a white or very light colour for full coverage. We love using premium chalk paint as it sticks to most surfaces, including the glass bottle that is in this demonstration. The white base will help the colours on your napkin to pop.
2 - Choose your napkin. When deciding on the napkin to use, think about how you can tear pieces to create a design, how it will work around curves (if you have them) and the background colour. Using a napkin that has a white background is easier as it doesn't show overlaps as much.
3 - Remove the back layers of you napkin so it is only 1-ply and no longer looks white on the back. Most napkins are 2 or 3-ply.
4 - Start tearing pieces of your pattern to apply to your object. We recommend doing only a bit at a time so you can see your design come together as you're working on it. 
5 - Apply a small amount of your lacquer or decoupage glue with your brush to your project, making sure to brush it out further than the piece of napkin you will be laying down.
6 - Gently lay your napkin down. Note that you can't move your napkin once it has been placed.
7 - Load a bit more of your lacquer or decoupage glue on your brush, and from the middle lightly brush over your napkin to fully glue it down. Note that you don't need to apply much pressure when doing this.
8 - Continue the process until you have fully covered your project.
9 - Once dry, lightly sand any overhanging bits of napkin off if needed and seal with a top coat or two of lacquer.
Top tips:
Paint a light colour under your decoupage first to give a nice base.
Tear your napkin rather than cut it with scissors. The straight edges caused by cutting are very obvious to the eye, whereas a torn edge blends in.
Seal with one to two top coats of lacquer for a durable and strong finish.
Further information about decoupage: