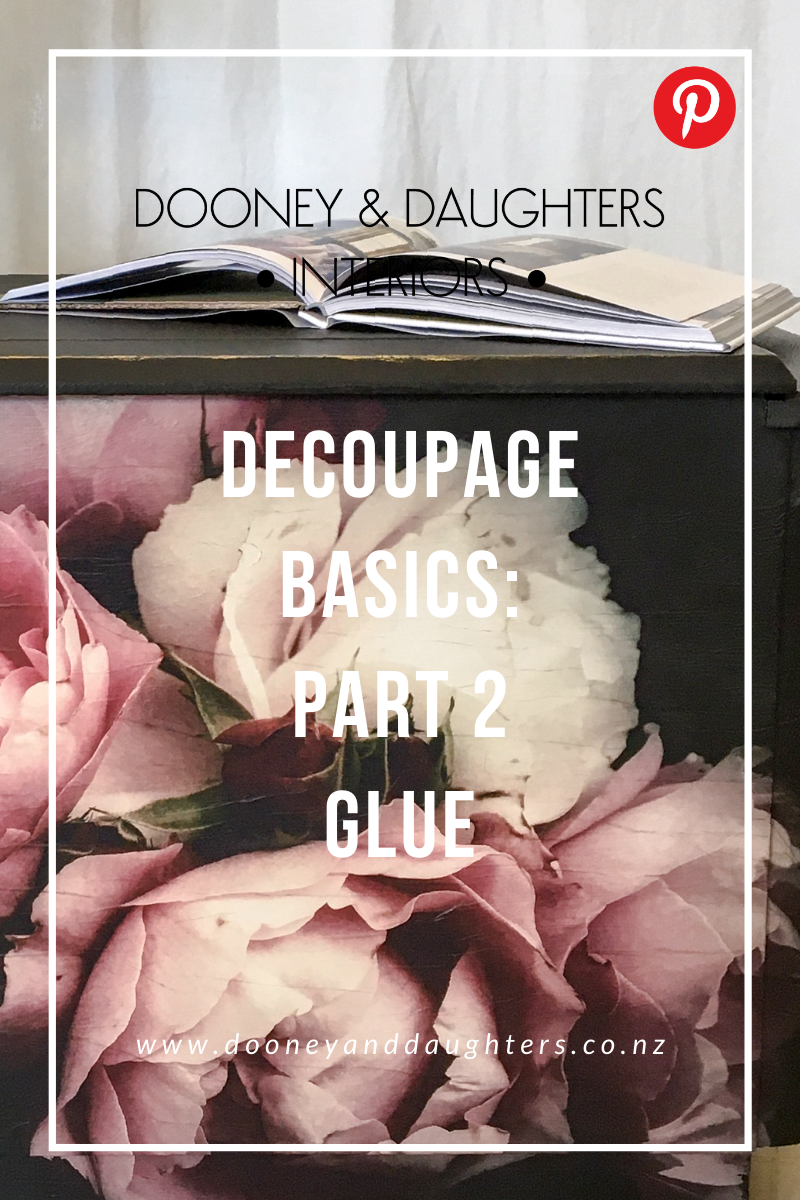 Decoupage Basics Part 2: Glue
Following on from last weeks Decoupage Basics Part 1 blog post where we talked all about different papers and preparation. This week, in Decoupage Basics Part 2, we're talking all about different glues and how to apply them.
Types of Decoupage Mediums (aka different glues we use):
PVA Glue - PVA is a great all-round glue that most of us have in our homes. It also makes a great decoupage medium for all of the different papers.
We do recommend sealing with a top coat of lacquer when using PVA on surfaces that may wear, to ensure that the finish is nice and strong, such as table tops or trays.
Most PVA glue is quite thick. Decant and add some water (stirring well), until it's a thinner consistency and easily runs off your stirring stick. This will help to reduce bubbles and ripples in your paper.
Velo Rice Paper Glue - our rice paper glue has been specially designed for decoupage and gives a matte finish. It is the right consistency and can be used straight from the bottle.
Again, if decoupaging a surface that is highly used, seal with lacquer.
Premium Lacquers - our favourite medium to use is our lacquer. Available in matte, satin and gloss, use whichever sheen you prefer.
The lacquers don't need to be watered down and give a nice thin coat. They also provide a hard wearing surface.
How To Use Your Decoupage Medium
1 - Use a good quality synthetic brush. We like using a small flat brush and have one set aside for this purpose.
2 - Apply a thin layer of your medium over the whole piece that you want to place your paper on, getting right to the edges and corners.
Make sure to apply your medium to a larger area than where your paper will go to ensure that all edges will stick down.
3 - Gently lay your decoupage paper over your glue. Depending on the type of paper you may be able to gently reposition it. Note that you can't reposition more delicate papers like napkins.
4 - Use a ball of glad wrap (clingfilm) to gently rub out any air bubbles in your paper.
5 - Once fully dry, add another coat or two of your medium (or a top coat of lacquer), until you're happy with the finish.
Facebook Live Video
Watch our Live as we go into more detail about the mediums we use and demonstrate how to apply a mulberry paper using lacquer for the medium.
See All of the Decoupage Basics Series Here
Decoupage Basics Part 1: Preparation