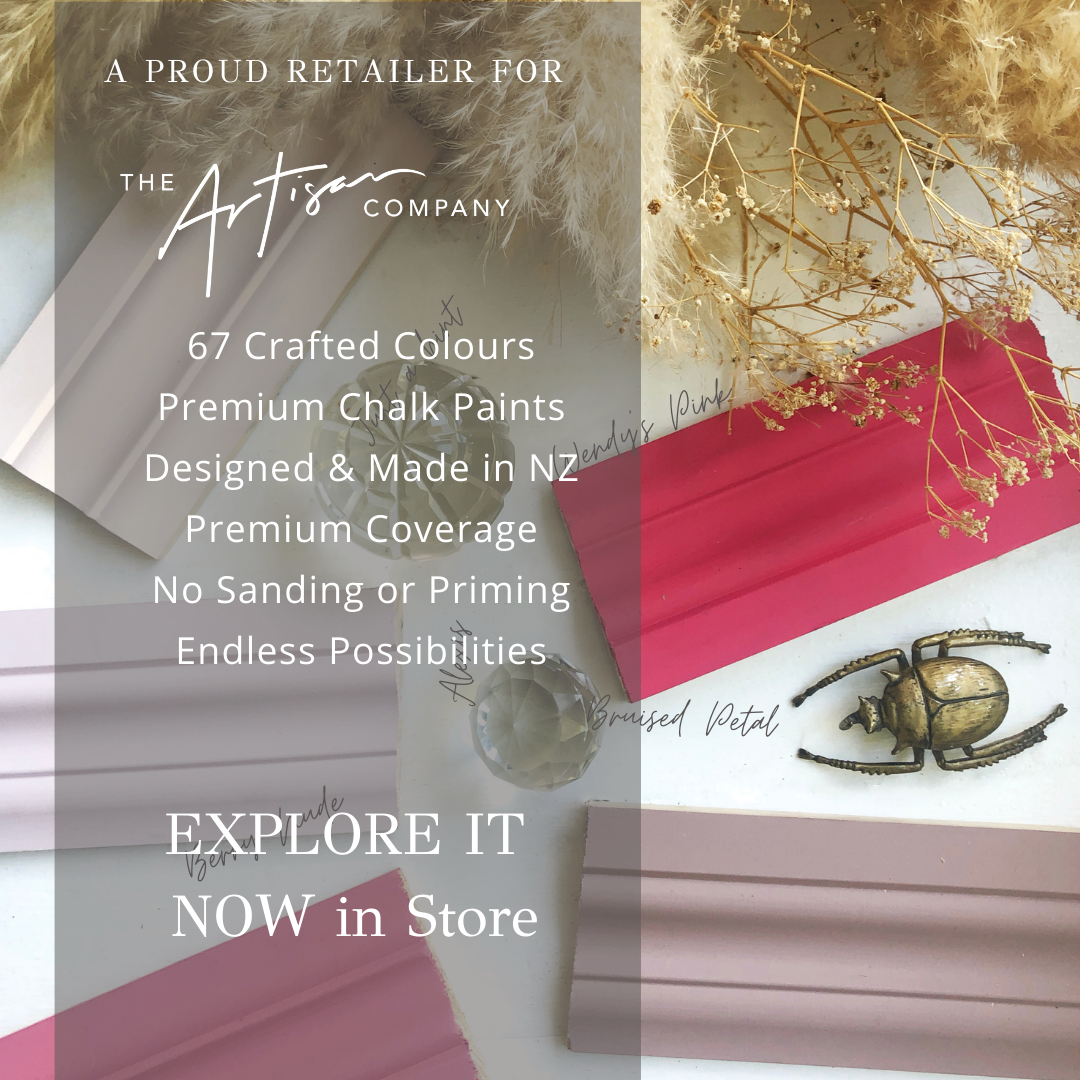 Chalk Paint Basics Part 1 - Introducing The Artisan Company Premium Chalk Paint
Welcome to our new blog series! This time we're going to focus on our premium chalk paint, including different paint techniques, brushes, distressing, coloured waxes and metallics.
In part one we want to introduce our brand new chalk paint made by The Artisan Company.
The Artisan Company premium chalk paint is made right here in New Zealand. With 67 beautiful, hand-crafted colours that have been designed with New Zealand tastes in mind, it is a wonderful highly-pigmented paint to use with great coverage.
What is chalk paint?
The Artisan Company chalk paint is a chalk based paint as opposed to an acrylic based paint. It requires little to no prep (often no sanding or priming is needed!) and it gives a lovely matte finish. 
With our premium chalk paint you can really get creative and create many different finishes, more of which we'll share later in the series.
Why do I need to seal my chalk paint?
Our premium chalk paint is very porous, while this makes it stick to pretty much any surface, it does mean that it needs to be sealed once it's fully dry.
Sealing your chalk paint is really easy, either with our premium soft waxes or lacquers.
Wax is a great option for decorative finishes and for surfaces that aren't needed to be hard wearing. We love this finish for most of our pieces and will talk about wax finishes later in this series.
Our premium lacquers come in matte, satin and gloss and are exterior grade. This means that not only can they be used for outside paint projects but are also great for interior projects in wet areas (like bathroom furniture). They're also very hard wearing and are perfect for dining table tops, floors and anything that you use a lot and want to wipe down.
What's the difference between premium chalk paint and Velvet Luxe?
Velvet Luxe is a hybrid chalk paint that is available in the same 67 colours. It has been designed to self-level for a smooth surface and has the sealer built in, meaning that you don't need to seal it at the end!
It's perfect for outdoor furniture, dining table tops and even floors. 
Velvet Luxe requires a little bit of prep at the beginning as it is a hybrid chalk paint. We advise to sand with a medium grit sandpaper first in the direction of the wood grain, wipe clean and then start painting. By doing some prep work first your paint will have great adhesion and a wonderful finish.
Why is my paint so thick?
Our premium chalk paint is full of the good stuff and not a lot of water. This means that's it's quite a bit thicker than your regular acrylic paint, always a bit of a surprise when you first open a can!
Make sure to always stir your paint really well when you open your can! Like with all paints pigments can settle, by stirring well with a flat bottomed stirring stick, you'll get everything mixed back in and your paint will be nice and even.
Facebook Live
Watch our Facebook Live video below to see us talk a bit more about the paint and to see it in action.
See All Of Our Chalk Paint Basics Series Here
Chalk Paint Basics Part 1 - Introducing The Artisan Company Premium Chalk Paint
Chalk Paint Basics Part 2 - Paint Techniques
Chalk Paint Basics Part 3 - Clear Wax, Dark Wax & Lacquer
Chalk Paint Basics Part 4 - Coloured Wax
Chalk Paint Basics Part 5 - Distressing & Gilding Wax
Previous Series
Check out our Decoupage Basics series! 
Decoupage Basics Part 1: Preparation