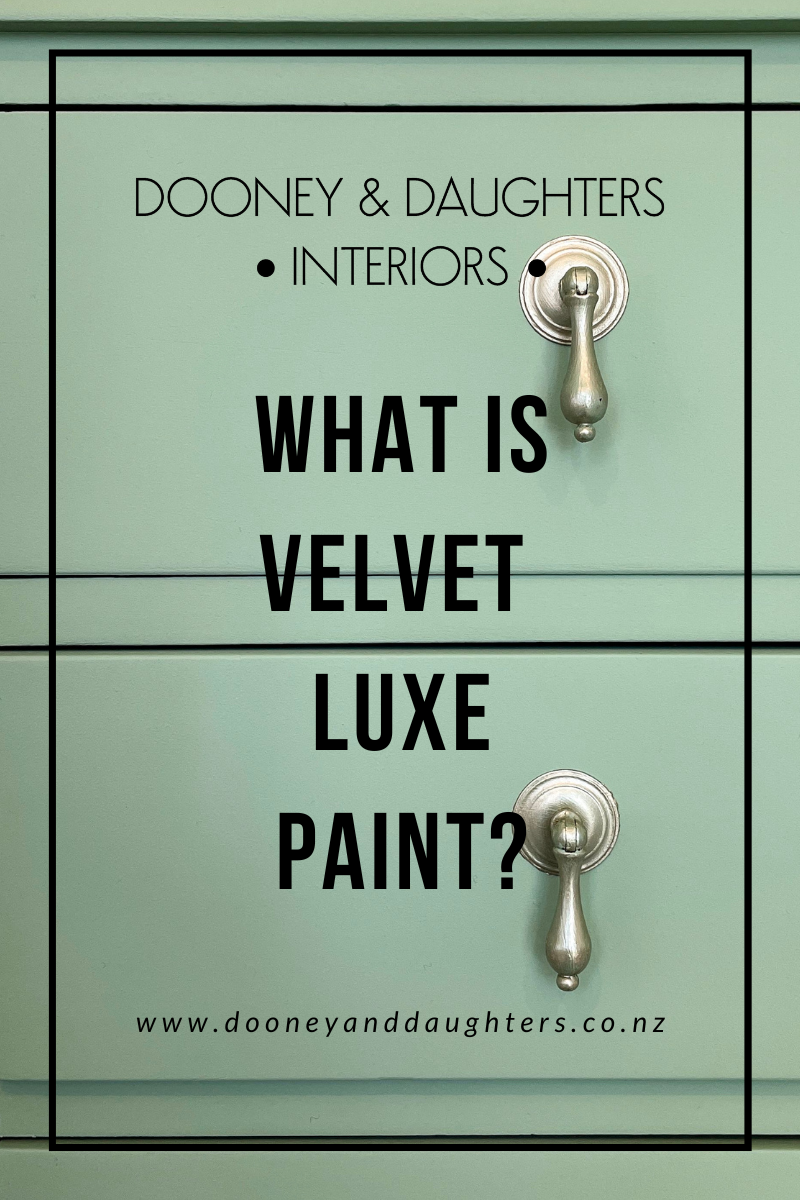 What Is Velvet Luxe?
Velvet Luxe is an indoor and outdoor hybrid chalk paint from The Artisan Company. In this blog post we walk you through everything you need to know when using Velvet Luxe and show you some examples that we've painted with it.
Overview
Velvet Luxe is low in VOC's and formulated in New Zealand with high quality ingredients and leading technology, making it New Zealand's best all-in-one chalk paint.
Available in all 67 premium colours, it's a great all-round premium paint with a fast dry time, no priming needed and advanced self-levelling qualities for a smoother finish. Velvet Luxe is a self sealing paint with no requirement to wax or lacquer over the top.
Ideal for those who are after a flat, one colour, matte finish. Velvet Luxe makes any paint project fast and easy. Durable and wipeable, it has been uniquely formulated for ease of use.
Typical Uses:
For exterior/interior surfaces
Outdoor and indoor furniture
Doors and cabinetry
Décor
Terracotta pots
 Windowsills, skirting and door jambs
Kitchens
Metal
Kingsley Velvet Luxe Hall Table
Coverage:
Approximately 20 square metres per litre, depending on substrate. This is based on a brushed application.
Preparation:
Clean and ensure surface is dust free. For general indoor or outdoor furniture and metals, apply straight on after cleaning.
For shiny/glossy surfaces or melamine, key the surface using rough grit sandpaper before applying. Ensure there is no wax on the surface, if so, remove all wax before application.
Obsidian Blue Velvet Luxe Shelves
Application:
Stir well and thoroughly to ensure that all pigments are evenly dispersed throughout the can.
Apply with a flat brush or smooth roller. Load up your brush or roller and brush out. Apply two coats for maximum strength.
Dry Time:
Touch dry in approximately 30-40 minutes depending on climate and environment. Do not use heat to dry. Do not paint in temperatures under 10C. Recoat time in 1 - 2 hours. Curing time of 7 days.
Firefly Velvet Luxe Used On Inside Of China Cabinet
Care and Maintenance:
During the curing period of 7 days, be gentle and keep out of heavy rain if possible. Darker colours may scuff, wipe away with a damp cloth. If applying over teak, do a test patch first.
Once cured, clean with water and a damp cloth or a gentle cleaner.
Wash Up:
Clean brushes immediately after use with warm soapy water. We recommend using olive soap.
Agave Velvet Luxe Tallboy
Facebook Live
Watch our short Facebook Live video where we explain what Velvet Luxe is and how to use it. 
For further information see the Velvet Luxe Hybrid Chalk Paint Information Sheet.