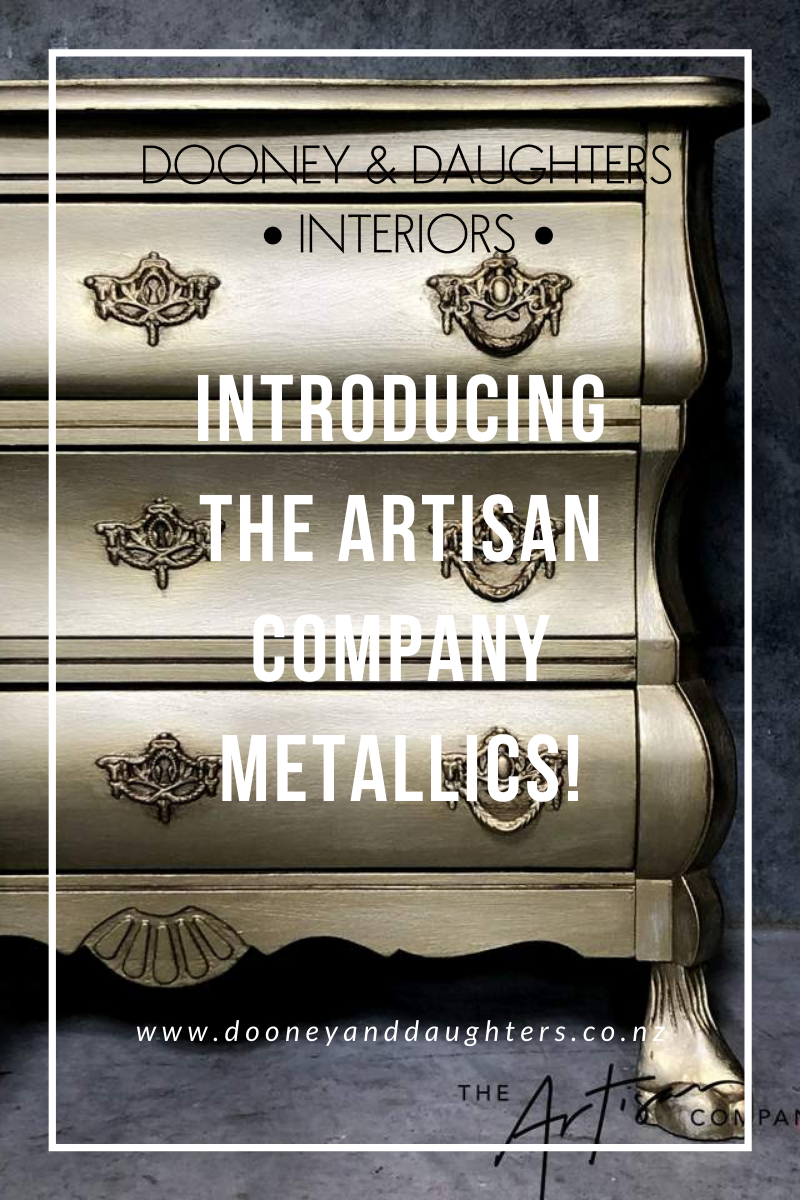 Introducing The Artisan Company Metallics!
We've dubbed this week Metallic Week in our Remuera shop!
We are now stocking the full range of The Artisan Company metallic cremes and glazes and thought we'd go over the basics of what they are and how to use them.
What is the difference between the creme and glaze?
The metallic cremes are a full metallic finish. Similar to a metallic paint, they give a solid colour finish in whichever colour you choose.
The metallic glazes are semi-translucent and are designed to add depth and shimmer to a chalk painted finish. There are a lot of different finishes that you can do with the glazes and we'll go into more detail on these over the next few moths. If you do have questions though, please get in touch or pop into our Remuera shop.
What prep do I need to do?
For both cremes and glazes you need to start with a chalk painted finish. These are designed to work with The Artisan Company's premium chalk paints.
Once painted, lightly sand and remove all dust. Remember that your metallic finish will reflect the paint underneath, if you want texture make sure there's texture in your chalk paint finish, if you don't want texture, make sure to sand it smooth.
If you are painting over a previously painted and waxed piece, make sure to remove the wax first as it may cause bubbling in your metallic finish.
How do I apply the metallics?
Stir your metallic creme or glaze well. The pigments do settle so make sure to stir each time you open your pot.
Decant onto a flat surface, We recommend decanting your metallic so you do not contaminate your pot - remember that a little goes a long way!
Put the lid straight back onto your pot. You don't want to leave it open for too long as it can dry out, this is another reason why we recommend decanting.
Paint your metallic on using a Staalmeester Spalter Brush. This brush is designed to give a flawless finish and makes it easy to apply.
Paint one to two coats in your desired technique until you're happy with the finish.
Clean your brush with water as soon as possible after painting to keep your bristles nice and smooth.
Facebook Live
Watch our Facebook live video for more information and to see what the cremes and glazes look like. We also show you how to apply the Champagne Gold creme with the Spalter Brush.
Metallic Information Sheets
For further information on techniques and colour pairings, download the Metallic Creme product data sheet here, and the Metallic Glaze product data sheet here.
Further Training
Make sure to check out our other training posts on our blog, all can be searched by 'category'.