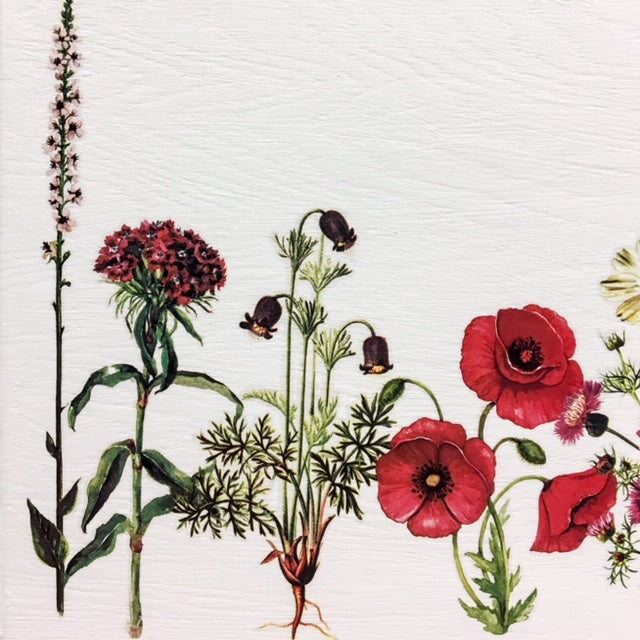 How-To Apply ReDesign With Prima Transfers
We are very happy to be stocking ReDesign With Prima transfers and thought we'd share a quick post to show you how to apply them to your next furniture or craft project.
1. Start with a freshly painted matt surface, you want to apply the transfers before you seal your
chalk paint
finish with
wax or lacquer
.
2. Cut your transfers to fit.
In this How-To we've used the
Floral Collection
 transfer where we needed to cut each individual flower for placement. With other transfers you might like to use the whole transfer, or you can cut them to size.
3. Using painters tape, gently work out your placement on your piece of furniture. Make sure to keep the backing on.
4. Once you're happy with your design, take the backing off your first piece and carefully place it on your furniture. Use your fingers to press it in place, you can also use painters tape to keep it in place if needed.
5. Using the wooden stick provided or something similar, rub over the transfer so that it adheres to your furniture. Slowly pull up the protective sheet as you go, making sure that all edges have fully transferred.
If they haven't, place the protective sheet over again and rub some more.
6. Once it has fully transferred, gently rub your fingers or a clean rag over the transfer to make sure that all edges have adhered.
7. Once you have completed your design, seal as normal with
wax or lacquer
.
Here's a quick video of us applying the
Floral Collection
transfer to a freshly painted glory box.