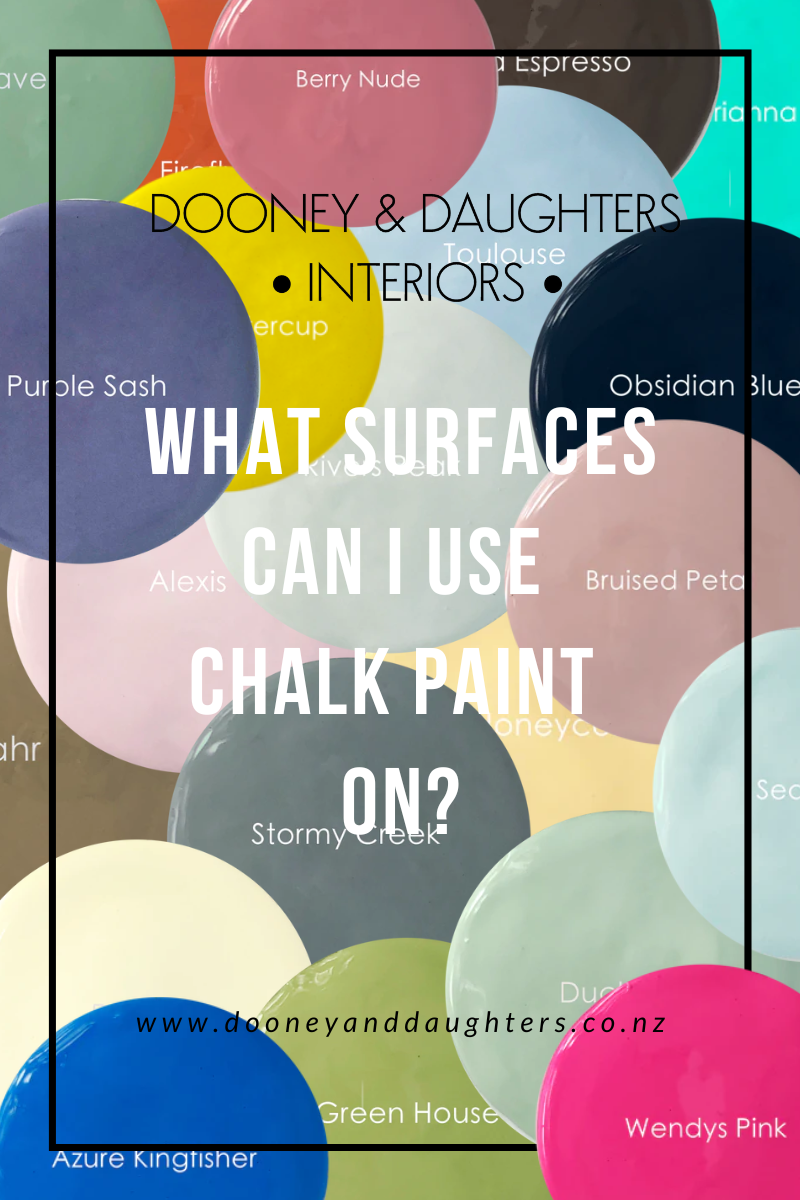 What Surfaces Can I Use Premium Chalk Paint On?
To those that are new to the world of premium chalk paint, it can be hard to believe that you can paint pretty much everything.
In this blog post we will break down the different surfaces you can paint with premium chalk paint, the prep work you will need to do (hint: not much!) and what finish works best for each surface.
Furniture
The most common use for premium chalk paint is to paint furniture. Designed to bring old furniture back to life and to create something unique and special for your home, premium chalk paint is the ideal, creative paint.
There are many different styles and finishes you can achieve, from smooth and contemporary, through to rustic, French country and more. Premium chalk paint is highly pigmented and extremely creative.
Surfaces: wood, high-gloss lacquer, MDF, particle board, laminate.
Prep: clean your piece, removing any dust or stickiness; sand off any flaking or rough patches.
Finish: furniture can be finished either with wax for the classic premium chalk paint finish, or with lacquer for pieces that are outside or need to be more durable (e.g. dining tables or bathroom furniture).
Floors
If you've read our blog before or been into our Auckland shop, you will not be surprised that we love using premium chalk paint on floors!
Easy to do and very effective, make sure to read our full break down blog posts here. We recommend hand painting for a thicker coverage and leaving the floors to dry really well between coats for a strong finish.
Surfaces: wood, laminate, tile, concrete. Check with us if you have something different and we can help.
Prep: thoroughly sweep, vacuum and mop your floors before painting. If you've just pulled old carpet up, make sure all nails are removed and that the floors don't have anything rough that could cause splinters.
Finish: we recommend applying two coats of hand brushed matte lacquer for a strong and durable finish.
Metal
Metal might not be the first thing most people think of painting but it's something we do regularly!
Old metal knobs and handles really come back to life once painted. It's a great way to update them and much cheaper than buying new handles.
But that's not all, we've painted an old silver-plated teapot before, metal candle sticks, metal mirror frames and the list goes on.
Surfaces: all metals.
Prep: clean thoroughly, use wire wool or a wire brush to remove anything that's flaking. If rusting, seal with premium lacquer before painting.
Finish: we finish handles with wax for a soft look, but you can use wax or lacquer depending on the use or whether the piece will be inside or outside like normal, please note that anything that may get hot (e.g. candle sticks) should be sealed with lacquer.
Painted in Kingsley Limited Edition Velvet Luxe, we painted straight over the old handle to give a contemporary feel.
Ceramic
Repainting old ceramic vases, pots and even garden gnomes is a great way to revamp your homeware.
We love using Velvet Luxe hybrid-chalk paint on outdoor planters to unify them into a cohesive scheme. It's also a great way to inject colour and personality into an outdoor space.
Surfaces: glazed ceramics, unglazed ceramics, previously painted ceramics, terracotta.
Prep: clean well before painting. If using Velvet Luxe on a high-gloss finish, quickly sand first to scuff up the surface.
Finish: seal with lacquer for anything that may get wet (including vases), all outdoor projects or anything that may get hot (e.g. ceramic candlesticks). Velvet Luxe has sealer built in and doesn't need anything on top.
Glass/Mirrors
Not something we do every day but painting a glass jar or ornament is a great, easy and affordable way to create themed decor items. Create something special for Christmas, a birthday party or wedding.
The glass on mirrors can also be fun to paint. Use a stencil with chalk paint on an older mirror to create a fun statement piece.
When painting glass and mirrors, give your first coat a longer time to dry than usual. This will allow it to really adhere to the surface before painting your second coat and sealing.
Surfaces: all glass and mirrors.
Prep: clean with glass cleaner and make sure it is fully dry before cleaning.
Finish: seal with wax or lacquer depending on use.
This metal book stand was painted in a base of Bruised Petal premium chalk paint with a top coat of Copper metallic creme.
Fabric/Leather
Using premium chalk paint or Velvet Luxe hybrid-chalk paint is a great way to update old couches, chairs, footstools and lampshades, giving a suede-like finish.
Simply brush your paint right out using a round brush for thin coats and allow to dry well between coats. By building up thin layers of paint you will avoid it cracking.
We recommend doing a test patch first to make sure the fabric will take the paint. Please note that synthetic fabrics and fabrics with thick piles (e.g. velvet) don't work as well.
Surfaces: cotton, linen and leather work well. Avoid any synthetic fabric or fabric with a thick pile. Most lampshades are fine to paint.
Prep: clean the surface well, vacuuming up any dust.
Finish: seal premium chalk paint with wax, or use Velvet Luxe which has the sealer built in.
Plastic
We've saved the surface that blows most peoples mind to last - plastic! Premium chalk paint will adhere to most surfaces and plastic is definitely one of those. 
While it might not be the most common surface to paint, there are a lot of different home décor items that are made of plastic and that can be completely transformed with some paint.
In the past we've painted old Bakelite lamp bases, bringing them back to life, and we regularly paint tables that have vinyl coverings.
Pro-tip: paint a thin first coat and leave it to dry well, this will give the second coat something to grip on to.
Surfaces: most plastics, including vinyl covering over chipboard furniture.
Prep: clean well.
Finish: seal with wax or lacquer depending on what the item will be used for.
We hope this has inspired you to look at things a bit differently, premium chalk paint really will stick to most surfaces!
If you have any questions about what you are wanting to paint, please get in touch, we would love to help.
Shop all 67 premium chalk paint colours here, Velvet Luxe hybrid-chalk paint colours here and wax & lacquer finishes here.
Glazed ceramic jugs painted in Wild Honey (yellow), Toulouse (blue) and Alexis (pink) and sealed with Luna Lustre glaze.