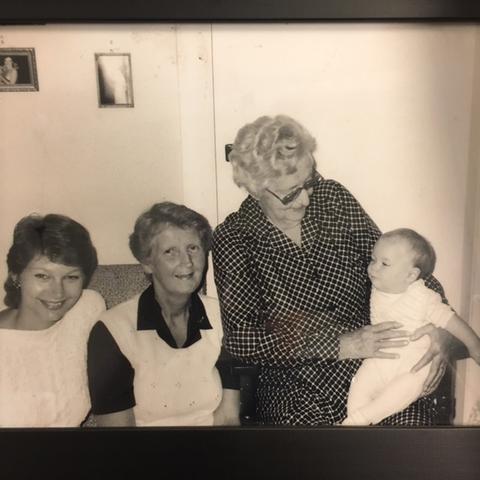 Welcome to Dooney & Daughters!
We've been open for two weeks and it's been nearly three weeks since we got the keys to 90 Mount Eden Road. It's been a complete whirlwind full of learning curves, long days (and nights) and lots of support from our wonderful family, friends and customers. I thought I'd take the opportunity to go into a bit more detail of what Dooney and Daughters is all about and to share some of my current favourite things that are in the shop.
Early 2017 my mum (Deirdre) and myself (Nicolette) were throwing out ideas of cool things to do (one of them was to own a boutique motel in the Coromandel... that one's still on the dream list!), and we were a bit surprised when we both mentioned owning a home ware shop. The more we got into it, the more we realised that our ideas were very similar. We wanted to focus on second hand furniture and home ware to show how owning unique pieces can make your home feel more 'you', how second hand doesn't mean second best and how the character and age of a piece can enhance the story that your home tells!
With the concept sorted we set out finding a space that worked for us and managed to stumble upon 90 Mount Eden Road almost straight away. As exciting as it was it meant that we had to step up our game of sourcing great furniture and home ware to put in the store and we had to make key decisions... like what to name the shop!
L-R: Deirdre, granny (Marie), great-granny (Dooney), Nicolette
Dooney is my great-grandmother who had amazing taste in furniture and was known to always use her 'best' instead of saving it for a special occasion. She spent many years as a newly-wed and then mother in India, Myanmar (then Burma) and South Africa before moving back to New Zealand. My mum still has some of her amazing pieces that she collected during her years abroad, including beautiful inlaid tables from Myanmar. Dooney instilled a love for beautiful home ware in both my granny and my mum, and this has been passed down to me, it only seemed fitting to name our shop after her.
While collecting I've definitely become a bit attached to a few of the pieces that are now in the shop...
We have plenty of blue willow patterned china and I can imagine collecting a full set to use as my everyday china!
These old soda bottles are amazing, and heavy! Much more of a design statement than having a regular sodastream.
This wee double sofa is gorgeous and if I had space in my home it wouldn't have made it into the shop!
This bedside table needs a little bit of TLC and then it would be a great (and quirky) bedroom addition.
Next time you're in Mt Eden please pop in and say 'Hi', you never know what you might find in store!
Nicolette