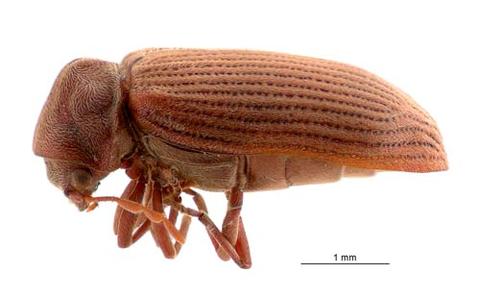 Help! I've Found Borer
We love solid wood furniture but in New Zealand borer can be a real problem. Don't despair though as there are ways to easily treat damaged items and to prevent your home from becoming infested with the wood burrowing beetles.
What is borer?
The term borer encompasses many different types of wood boring beetle and is also known as furniture beetle or woodworm beetle.
The female lays her eggs into cracks in wood or inside old exit holes. After about 3 weeks the eggs hatch and for the next 3 – 4 years the larvae bore through the wood eating the starchy part of the wood grain. The adults then break through the surface making a 1 – 2 mm exit hole, this spills dust which is usually the first sign of an infestation. The borer emerges to breed in October – May and will die within 2 – 4 weeks.
Borer like seasoned or moist untreated timber. They are also fond of soft (sapwood) or untreated wood and can be common in untreated native timbers in older homes.
How do I treat borer?
We use the Kiwicare 3 step solution for any items we come across with borer.
1 - Proof bare wood > Treat any bare wood with NO Borer Total Wood Protection spray. This will penetrate the wood and should protect for many years to come.
2 - Proof coated wood > Inject flight holes in painted, varnished or polished timbers with NO Borer Spray Injector. This forces insecticide into the holes killing any larva. It also prevents adult beetles laying eggs in the flight hole.
3 - Stop > During each flight season (October - May) set off NO Bugs Borafume fumigator (borer bomb) in roof voids and sub-floor areas to flush out and kill adult borer.
There are many other products that are available at your local hardware store, when buying make sure that they include borer in the list of insects they target. Another product we use is the Expra Cockroach & Borer Fumigator which is done during flight season in October – May.
How can I prevent borer?
We advise treating any wood that you buy second hand, especially if it has borer holes in it and setting of a borer bomb once a year during the flight season to stop any adult borer from laying eggs.
Borer prefer timber that has some moisture in it. Ensure that your home is dry, especially rooms on lower levels that are on the south side of your home as they tend to be darker and damper.
Note: if your home has a serious borer infestation we recommend that you contact a professional to have it removed.
Nicolette